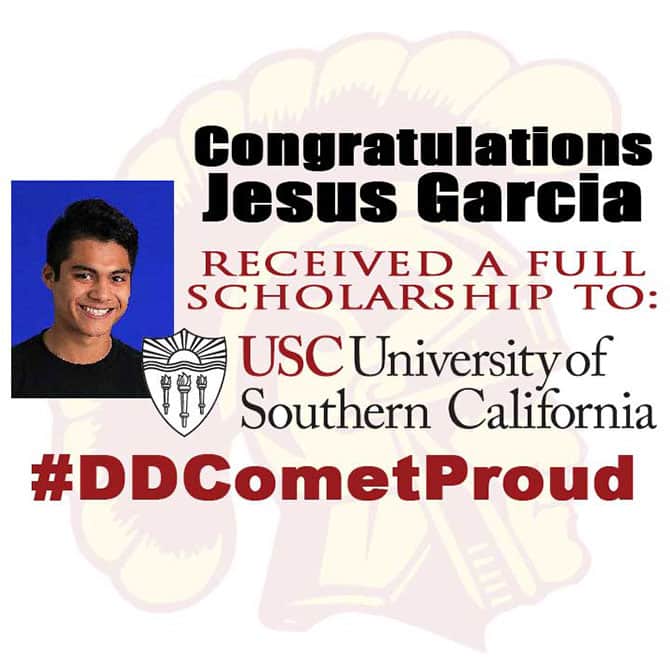 If you're a college-bound, soon-to-be Delavan-Darien High School graduate, there's probably no better news to receive than what Jesus Garcia found in his email mailbox yesterday.
He was awarded the University of Southern California Trustee Scholarship, a full-tuition award worth $53,440 for the 2017-18 academic year. The scholarship is renewable for eight semesters, provided Garcia makes satisfactory progress toward his degree and upholds USC's standards for conduct and academic integrity.
"You are part of a very select group of students chosen for this award," reads a letter he received from the university's admissions office.
"He is absolutely a great kid, and a great student. Jesus is very deserving of this award and I am incredibly proud of his accomplishments," said DDHS Principal Jim Karedes, one of the first at DDHS to find out about the award.
As a recipient, Garcia is eligible to other perks, such as applying for housing in the McCarthy Honors College in the new USC Village. He also will receive personalized academic and scholarship advising by USC Academic Honors and Fellowships, and can join the Trojan Scholar Society, an exclusive student organization that programs academic, social and cultural events for the personal and professional development of the university's top students.
What was it like when he saw the message from USC?
"Boom, I blew up," Garcia said, noting he was anxious in waiting about a month for a response. "I told my dad (Jesus Sr.). I was screaming it to his face. I showed him the screen of the computer and he was just gazing at it, taking it all in. He was speechless. I told my mom (Maria) and she gave me a hug. She started tearing up. I loved it."
Garcia is a first-generation college student in his family. His parents never were educated past high school, he said.
"Getting accepted into such a prestigious university, along with a full-tuition scholarship, is not only an accomplishment to myself, but it's also a big accomplishment to my parents and my whole family," Garcia said.
Garcia said he worked hard to put together the "perfect essay" on the application and to get his grades up to where they needed to be for the school to consider accepting him (USC accepts only 16.5 percent of all applicants). He took the ACT test three times until he scored high enough where he was satisfied he could make it into USC and have a shot at the scholarship. He was also very active in school sports, extra-curricular activities and community service, which he said gave his application a huge boost.
He credits his teachers and the course offerings and extra-curricular offerings with his success, as well as a supportive community.
"The education I received, not only did I challenge myself with hard courses, such as honors and (Advanced Placement) courses, but my teachers always sought out to help me in any way they could," he said. "Having DDHS be such a close, tight-knit community with the city of Delavan has made it so much easier for me to gain resources that wouldn't be available if I was in, say, a city that was no so close and bonded like Delavan is. Delavan-Darien, I love the school."
Garcia plans to double-major in acting and cinematic arts, despite having only started acting in his junior year of high school. He loved performing (breakdancing at school dances and at pep rallies, especially), but only got into acting at the urging of a close friend, he said. Once on the stage, he was hooked.
"I'm a novice, no doubt about it, but I'm ready to embark on something huge," Garcia said. "Overall, my biggest goal is to become a successful actor.
I'm not talking like, 'I've seen him here or there.' I'm talking about blockbuster movies. I want my own star on the Hollywood Walk of Fame."
He chose USC because it's one of the top theater and cinematography schools in the country, and Hollywood and major movie studios are just minutes from campus.
He even bought a replica Hollywood Walk of Fame star keychain with his name on it while visiting there during his junior year. It's a motivator he's not shy of talking about.
"I have it on keychain as a reminder as to what my overall goal is," he said. "Whenever i see it, it reminds me to keep striving, to keep grinding, to one day achieve my dreams."
Moving west to a La La Land will be a big switch for a young man who grew up in the the small, close-knit community of Delavan but, "at this point, getting accepted into USC and receiving such a prestigious scholarship, anything is possible. I'm ready for it."
With confidence, we can say yes, he is ready for it, and so much more. Congratulations Jesus! #DDCometProud!